Nos gusta tener las muñecas bien vestidas, con toques de realismo y cuando vamos hacer fotos, bien, o rebuscamos mucho el lugar, o tenemos los pósters de escenarios que parecen reales; pero sé que algunas tenéis habitaciones o dioramas.
We like to own well-dressed dolls, with realism character and when we take pictures,we are very picky to find the perfect place, or we use posters with scennes, landscapes, that seems real. But I know some of you have rooms or dioramas for take photos.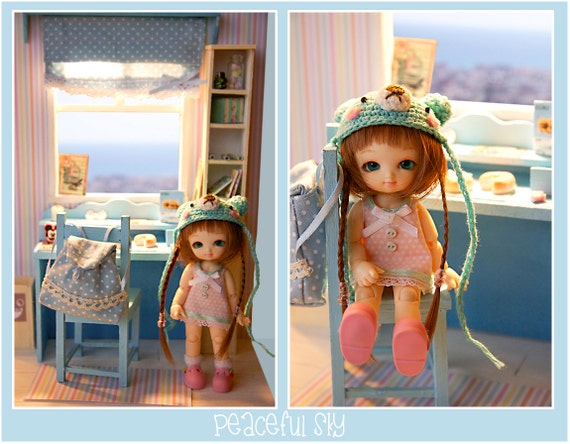 En la Dolls&Party tuve el gusto de estar al lado de
Wichi Popochi
unas artistas que te crean habitaciones tamaño 1/6 perfectas. Todo detalle y realismo con diseño super amoril. Me quedé embobada de la calidad y lo bien que lucen las muñecas dentro. Me hizo recordar en las casas de muñecas que teniamos cuando éramos pequeñas.Antes te ocupaban una mesa entera, ahora puedes elegir una habitación y meterla sin problemas en el armario.
In Dolls&Party Barcelona I had the pleasure t be seatted besides WichiPopochi,artists who create rooms
for 1/6 scale dolls or similar (blythes, taka, pukis...) . They have made by detail and super cute design.
I was spellbound by the quality and how nice the dolls look inside. It made me remember the dollhouses
we had when we were child. Before now our house dolls occupied an entire table, now you can choose
a room and put it in the closet smoothly.

Pero si recuerdas, el boom nació en Nerea Pozo, una artista, pintora, dibujante y más de nuestro país.
Ella supo llamar a la puerta de nuestra curiosidad e inspiró para crear habitaciones propias. O directamente,
alguna le habréis comprado a través de subasta en ebay.
But if you remember, dioramas boom was born by hand of Nerea Pozo, an artist, painter, illustrator of
our country.
She knew how to knock in our door's curiosity and inspired us to create rooms by our tools.
Or directly,
you bought diorama made of Nerea through ebay auction.
Para finalizar, también debo mencionar que en Etsy puedes encontrar más creadores de habitaciones. El precio oscila entre los 270$ y 375$. Podéis ojear en las tiendas de
MoonchildSilverdream y
JoyfulGirlGypsyHeart
. En esta última encontraréis algunos complementos de más para decorar el diorama.
Finally, I want to mention you can find on Etsysome dioramas for sale. The price ranges from $ 270 to
$ 375. You can browse in stores JoyfulGirlGypsyHeart or MoonchildSilverdream. In this last one you will
find some accessories to decorate the diorama.

Pasad buen fin de semana!
Have a nice weekend!